---
Duo with Anders Ericson, theorbo and baroque lute
---
Trio with Marcus Mohlin, harpsichord & Stina Petersson, baroque cello
Kristine West, Stina Petersson and Marcus Mohlin met during their studies at the Royal College of Music in Stockholm. They formed an ensemble in 2012, in connection with a tour that marked the start of their collaboration. Since then they have given around 50 concerts together as a trio, as well as countless concerts in a variety of duo and larger ensembles. The ensemble have been praised for their interplay and communication, both between themselves and with the public, and their playing is characterised by a feeling of being in the moment and spontaneity.
Their first entire album as an entire ensemble – Bach Flute Sonatas – is to be released in
the beginning of 2017.
---
WEST/HÄRDELIN/LÅNGBACKA
Artistic collaboration project between Folk singer Emma Härdelin, accordeon player Lisa Eriksson Långbacka and Kristine West.
Premiere concert July 11th at Musik vid Dellen festival.
Further concerts February 2018!

With support from Musikverket & Stiftelsen Längmanska Kulturfonden.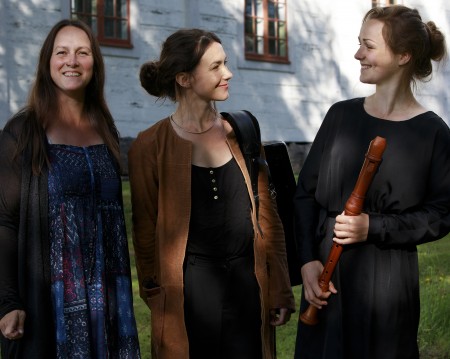 ---
ReCorda
ReCorda is a flute quartet consisting in Kristine West, recorders, Joel Nyman, violin, Nina Söderberg, viola and Frida Bromander, cello.